Sharing the joy of music since 2004...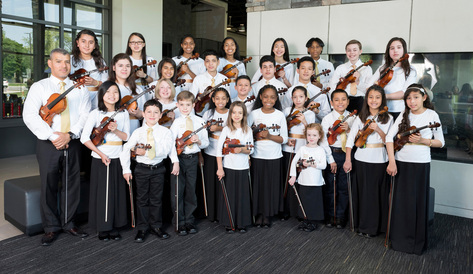 4 Strings Attached represents some of Northern Illinois' most gifted violin students between the ages of 4 and 18 years old.
Based approximately 30 miles northwest of Chicago, this non-profit performance group draws its memberships from Lake, Cook, and McHenry Counties. Its director and founder,
Martin Lopez
, is an accomplished violinist, having played and toured internationally since he was a young child. "The thrill of performing in front of a crowd and around the world is like no other. I gained so much, musically and otherwise, during my years with The Betty Haag Academy; I want to empower these kids and make it possible for them to get even a taste of that experience."

, says Mr. Lopez.
Began in the year of 2004, 4 Strings Attached has made quite a name for itself in the Chicagoland area and beyond. Local festival performances include repeat appearances at Fiesta Days in McHenry, The Mozart Festival in Woodstock and The Dickens Festival in Dundee. In 2007, an annual tradition was born in the form of a Christmas concert at the Woodstock Opera House. In 2009, 4 Strings Attached was featured on ABC 7's Chicagoings with Bill Campbell. Each year, the group appears in magazines and newspapers throughout the area. Each public appearance brings with it a wake of interest which has resulted in numerous private performances for weddings, charity events, and the like.


4 Strings Attached has completed one national and two international tours. In 2008, a week in Guadalajara, Mexico brought with it numerous performances and memories alike. Anxious to hit the road again, the group set out for Florida in 2009, performing throughout the Naples area and in Orlando at Universal Studios and Walt Disney World. During the summer of 2010, 4 Strings Attached crossed the Atlantic to perform throughout Bulgaria during a ten day trip. These performance tours not only bring music to communities far and wide, they afford the young violinists opportunities to experience new cultures, and learn music from different parts of the world to share with our community.


The young performers of 4 Strings Attached gain experience that not only benefits their musical careers, but also helps to build a hard working attitude, a socially confident individual, teamwork skills and discipline.
---